Setup your pc/mac to mine XFL
Within the wallets for Windows and Mac, it is possible to setup a mining account very easily. With just a few steps your desktop PC or laptop is ready to mine Florin. And yes, you really have a chance (currently) to mine Florin(s) on daily base!
To mine Florin you need at least a mid range laptop or desktop PC with a minimum of 16GB RAM memory. Mining Florin will use your system's CPU (processor) power in combination with some RAM instead of a GPU (video card) which is used by most cryptocurrencies. One of the advantages why Florin uses CPU-based mining is to prevent big mining pools to act as big mining whales which makes mining more unfair for the individual miners like you and me. Ok, let's get started!
Step 1

Adding mining account in the Florin Desktop Wallet
In case you do not have a Florin Desktop Wallet installed, this is the moment to do, read our tutorials in this section. Once it's done, click on the little diamond in the bottom of the wallet:
Enter your wallet password and click "Create Mining Account"
Step 2:

Configure your mining setup
There are some mining parameters which can be set by putting the below slides on different positions. Remember, if you set all slides to the maximum number of threads and/or memory, your system will significantly slow down. So it's advised to use the default settings, but you might tweak some settings for what is best/workable for you. This screen might show up differently on your computer, because you can have a setup with more memory, a better cpu with more threads etc. In this example we use the following settings: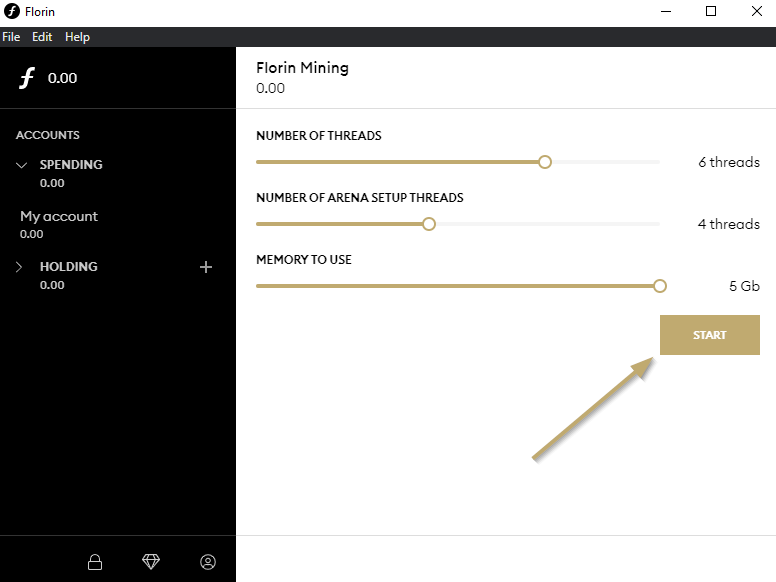 Now we're done! Sit back and relax, your PC/laptop is now mining Florin! The wallet need some time to get to the full mining speed. The statistics shows some nice overview about the mining hash rate. The speed sometimes heavily fluctuate, especially when the computer is in use. Want to get an indication how often your setup could get a reward? Note your "Moving average" and check out this page by FlorinFans.com
The current mining block rewards are 0.025 Florin. So if a block is found, the total value in the Florin wallet will be increased with 0.025 Florin.
Got questions? Check our mining faq