Installing Florin (Mac) first time
Step 1

Download the latest version of florin and start the installation.
Download the latest Florin desktop wallet for MacOS from the official Florin website using the Download option in the menu. Select MacOS in the Download menu on the website. Carefully read the instructions about the recovery phrase. This is very important. We will go into this further in the coming steps. Press the Dowload Florin for MacOS button. Once the download is complete, run the .dmg to setup Florin on your Mac. After the installation is done. Run the Florin software. On the startup screen of Florin you will be asked if you want to Create a new wallet or restore an existing wallet. Since you are a new user, select "I want to create a new wallet"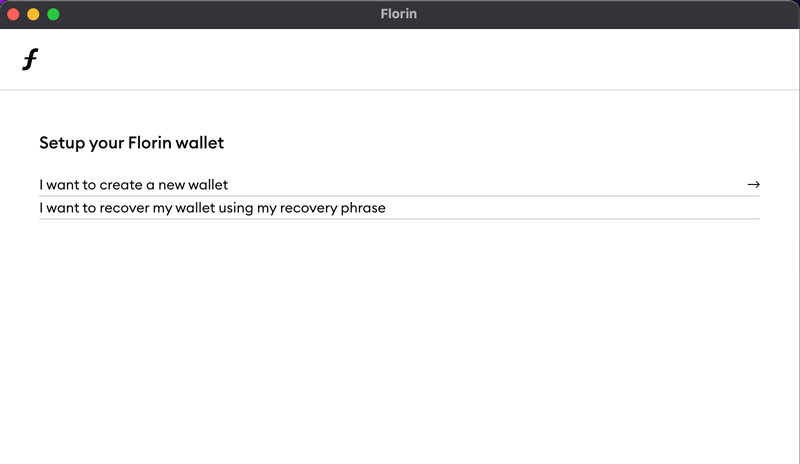 Step 2

Write down your recovery phrase and store it in a safe place. this is very important!
The 12 words displayed on your screen is your recovery phrase. Keep the recovery phrase you see at installation in a safe place. Lose phrase or someone else with access to the phrase = lose Florin. When you download the Florin app, you explicitly and unconditionally agree that you and you alone are responsible for managing your Florin and that the use of the Florin app is at your own risk.
Step 3

Confirm your recovery phrase
We cannot say enough how important it is for you to properly write down and save your recovery phrase in a safe place. To confirm that you have stored the 12 words recovery phrase, you are asked to verify them by writing the words in each field. After that, select "Next".
Step 4

Choose a password
Your wallet needs extra protection by setting a password. Fill in the password and to confirm you need to fill in the password for the second time. After that select "Finish".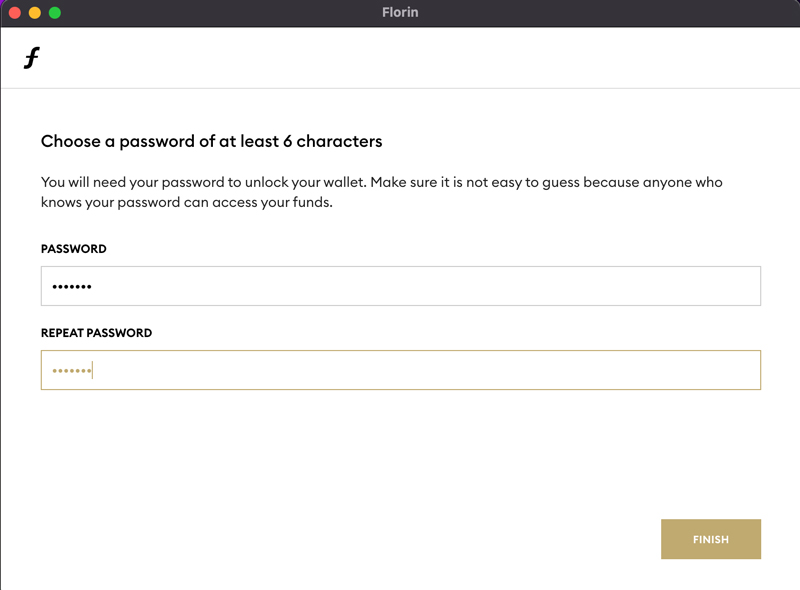 Step 5

Blockchain synchronization
The Florin desktop wallet is now synchronization the blockchain. This process can take 30 minutes up untill 1 hour depending mainly on the speed of your internet connection.
Step 6

The result: a fully working Florin desktop wallet
After the blockchain has been fully synchronized: Congratulations, you have now a fully working Florin desktop wallet on your Mac!